Analisis Pengaruh Nilai Tukar, Jumlah Uang Beredar dan BI Rate Terhadap Inflasi di Indonesia dan Dampaknya Terhadap Daya Beli Masyarakat
Silvia Puspita Sari

Universitas Tanjungpura

Syamratun Nurjannah

IAIN Pontianak
Keywords:
Inflation, Exchange Rate, Money Supply, BI Rate, People's Purchasing Power
Abstract
This study aims: to determine and analyze the effect of Exchange Rate, Money Supply, and BI Rate on Inflation and the impact of Inflation itself on People's  Purchasing Power.
This study uses: a decriptive correlational reserach design with a case study method and through a quantitative approach. This study uses time series data from 1995 to 2019. The data source is secondary data obtained from Bank Indonesia and Badan Pusat Statistik. Data analysis using path analysis method using SMART PLS 3 program.
The test results: show that the Exchange Rate has a significant effect on Inflation with a significance of 0,000 < 0,05. The Money Supply has a significant effect on Inflation with a significance of 0,000 < 0,05. BI Rate has a significant effect on Inflation with a significance 0,006 < 0,05. Inflation has a significant effect on People's Purchasing Power with a significancne of 0,003 < 0,05.
Penelitian ini bertujuan: untuk mengetahui dan menganalisis pengaruh Nilai Tukar, Uang Beredar, dan BI Rate terhadap Inflasi serta pengaruh Inflasi itu sendiri terhadap Daya Beli Masyarakat.
Metodelogi penelitian ini: menggunakan rancangan penelitian korelasional dekriptif dengan metode studi kasus dan melalui pendekatan kuantitatif. Penelitian ini menggunakan data time series dari tahun 1995-2019. Sumber data adalah data sekunder yang diperoleh dari Bank Indonesia dan Badan Pusat Statistik. Analisis data menggunakan metode analisis jalur menggunakan program SMART PLS 3.
Temuan Penelitian: menunjukkan bahwa Nilai Tukar berpengaruh signifikan terhadap Inflasi dengan signifikansi 0,000 < 0,05. Jumlah Uang Beredar berpengaruh signifikan terhadap Inflasi dengan signifikansi 0,000 < 0,05. BI Rate berpengaruh signifikan terhadap Inflasi dengan signifikansi 0,006 < 0,05. Inflasi berpengaruh signifikan terhadap Daya Beli Rakyat dengan signifikansi sebesar 0,003 < 0,05.
Downloads
Download data is not yet available.
References
Brue, Mc Connell. 2005. Microeconomics, 16th Edition. New York: The McGraw Hill Company.
Ekananda, Mahyus. 2014. Ekonomi Internasional. Jakarta: Erlangga.
Fadilla. 2017. Perbandingan Teori Inflasi Dalam Perspektif Islam dan Konvensional. Islamic Bankin. Vol 2(2): 1-14.
Ginting, Ari Mulianta. 2016. Analisis Faktor-Faktor Yang Mempengaruhi Inflasi: Studi Kasus Di Indonesia Periode 2004-2014. Jurnal Pusat Penelitian Badan Keahlian DPR RI. Vol 21 (1): 37-58.
Jumhur. 2018. Pengaruh Jumlah Uang Beredar, Ekspor dan Impor Terhadap Inflasi (Studi Empiris Pada Perekonomian Indonesia). Jurnal Ekonomi Bisnis dan Kewirausahaan. Vol. 7 (3): 186-201.
Karahan, Ozcan. 2017. Exchange Rate PassThrough in Turkey Before and After the Adoption of Inflation Targeting Regime. Journals Muni CZ. Vol. 8 (2): 37-48.
Khalwaty, T. 2001. Inflasi dan Solusinya. Jakarta: Gramedia Pustaka Utama.
Langi, Theodores Manuela., Vecky Masinambow, dan Hanly Siwu. 2014. Analisis Pengaruh Suku Bunga BI, Jumlah Uang Beredar, Dan Tingkat Kurs Terhadap Inflasi Di Indonesia. Jurnal Berkala Ilmiah Efisiensi. Vol. 14 (2): 44-58.
Manasseh, Charles O dkk. 2018. The Effects of Interest and Inflation Rates on Consumption Expenditure: Application of Consumer Spending Model. International Journal of Economics and Financial Issues. Vol. 8 (4): 32-38.
Mankiw, N. Gregory. 2018. Teori Makro Ekonomi Terjemahan. Jakarta: PT Gramedia Pustaka Utama.
Mbongo, James Ezekiel. Mutasa, Felician dan Robert Ebihart Msigwa. 2014. The Effects of Money Supply on Inflation in Tanzania. Science Publishing Group. Vol 3 (2): 19-26.
Nopirin. 2016. Ekonomi Moneter. (Edisi 1 Cetakan ke-17). Yogyakarta: BPFE-Yogyakarta.
Nur, Ermon Muh. 2012. Konsumsi dan Inflasi Indonesia. Jurnal Kajian Ekonomi. Vol. 1 (1): 55-72.
Nurfahana, Anna dan Tri Anita. 2017. Pengaruh BI Rate dan Nilai Tukar Mengambang Oleh Bank Indonesia Terhadap Tingkat Inflasi di Indonesia 2008-2015. SOSIO-E-KONS. Vol. 9 (3): 194-199.
Nyamekye, Gabriel Effah dan Eugene Adusei Poku. 2017. What is the effect of inflation on consumer spending behaviour in Ghana?. Munich Personal RePEc Archive. School of Businnes and Management Studies. Sunyani Technical University.
Putong, Iskandar. 2013. Economics Pengantar Mikro dan Makro. Jakarta: Mitra Wacana Media.
Samuelson & Nordhaus. 2005. Economics 8th Edition. New York: Mc Graw Hill-Irwin
Sukirno, Sadono. 2015. Makroekonomi Teori Pengantar Edisi Ketiga. Cetakan ke- 23. Jakarta: PT Raja Grafindo Persada.
Warjiyo, Perry Juda Agung. 2007. Kebijakan Moneter Indonesia. Seri Kebanksentralan No. 6. PPSK Bank Indonesia. Jakarta.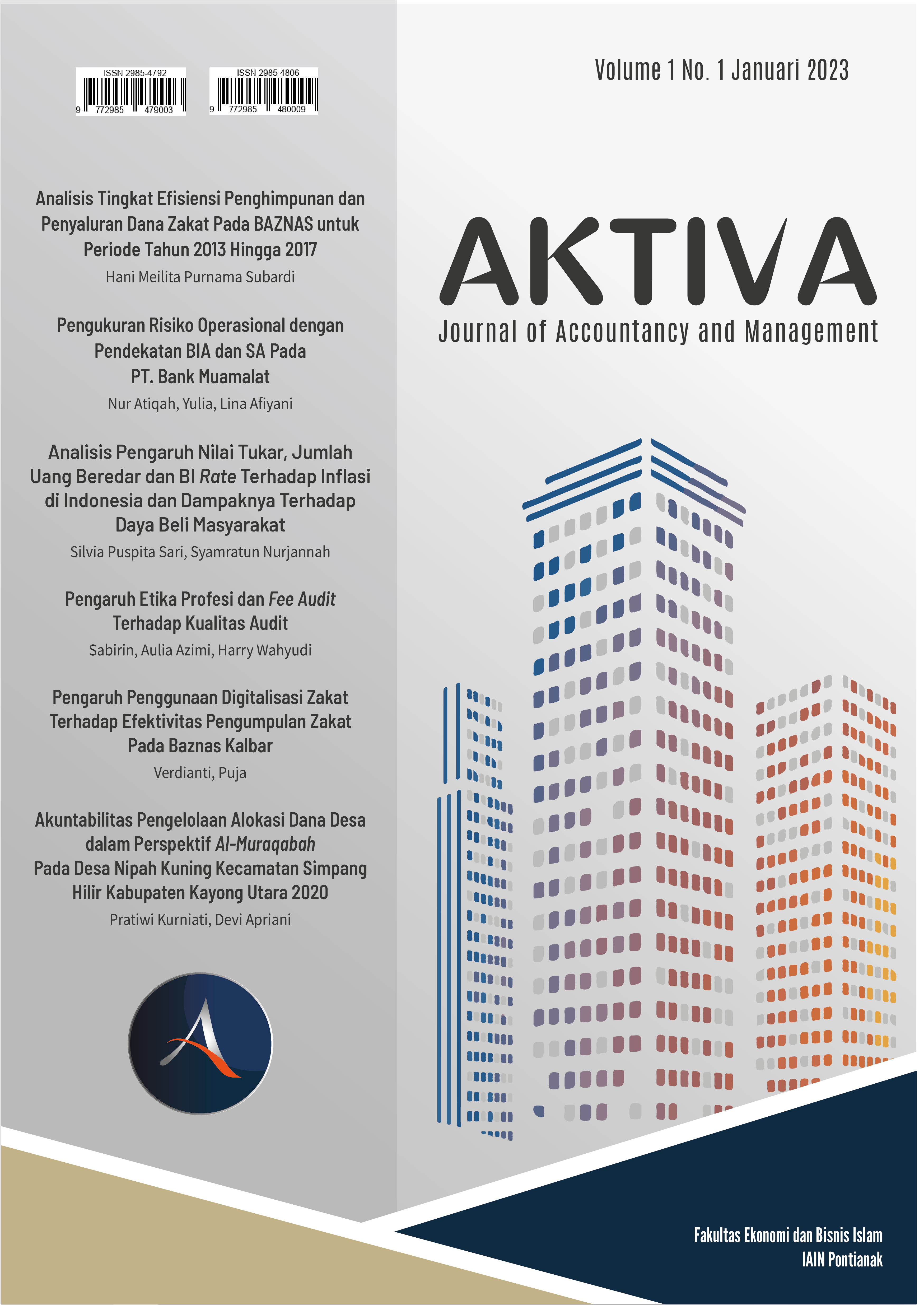 How to Cite
Sari, S., & Nurjannah, S. (2023). Analisis Pengaruh Nilai Tukar, Jumlah Uang Beredar dan BI Rate Terhadap Inflasi di Indonesia dan Dampaknya Terhadap Daya Beli Masyarakat. AKTIVA: Journal Of Accountancy and Management, 1(1), 21-29. https://doi.org/10.24260/aktiva.v1i1.1015
Copyright (c) 2023 Silvia Puspita Sari, Syamratun Nurjannah
This work is licensed under a Creative Commons Attribution 4.0 International License.