Analisis Tingkat Efisiensi Penghimpunan dan Penyaluran Dana Zakat Pada BAZNAS untuk Periode Tahun 2013 Hingga 2017
Hani Meilita Purnama Subardi

IAIN Pontianak
Keywords:
Efisiensi, Badan Pengelolaan Zakat, Data Envelopment Analysis
Abstract
ABSTRAK
Tujuan Penelitian: Penelitian ini bertujuan untuk mengetahui tingkat efisiensi dari pengelolaan dana zakat yang telah dihimpun dan didistribusikan oleh Badan Amil Zakat Nasional pada periode 2013 hingga 2017. 
Desain / metodologi / pendekatan: Analisis pada tingkat efisiensi ini diolah menggunakan Data Envelopment Analysis (DEA) dengan pendekatan produksi. Variabel Output yang digunakan meliputi dana terhimpun dan dana tersalurkan. Sedangkan variabel input yang digunakan adalah Biaya Personalia, Biaya Operasional dan Biaya Sosialisasi. 
Temuan Penelitian: Hasil dari penelitian ini menunjukkan dari tahun 2013 hingga tahun 2017 BAZNAS sempat mengalami inefisiensi pada tahun 2013 sebesar 84,73% dan pada tahun tahun 2015 sebesar 75,14%. 
Kontribusi Teoretis / Orisinalitas: Kontribusi penelitian ini dapat menjadi alat evaluasi bagi Badan Pengelola Zakat dalam hal mengelola dana dan mentaur strategi dalam penghimpunan dan penyaluran dana lebih baik lagi. 
Keterbatasan dan implikasi penelitian: Penelitian ini masih terbatas pada analisis tingkat efisiensi pada pengelolaan dana zakat. Sehingga perlu diadakan peneitian lanjutan tentang faktor-faktor yang mempengaruhi efisiensi penghimpunan dan pendistribusian dana zakat yang telah dikelola.
Downloads
Download data is not yet available.
References
Abd Wahab, N., & Rahim, A. (2013). Determinants of Efficiency of Zakat Institutions in Malaysia: A Nonparametric Approach. Asian Journal of Business and Accounting .
Akbar, N. (2009). Analisis Efisiensi Organisasi Pengelola Zakat Nasional dengan Pendekatan Data Envelopment Analysis. Tazkia Islamic Finance & Business Review .
Al-yubi, S., Ascarya, & Possumah, B. T. (2018). Examining the Efficiency of Zakat Management: Indonesian Zakat Institutions Experiences. International Journal of Zakat Vol.3 (1) , 37-55.
Anderson, M. (2001). A new method for non-parametric multivariate analysis of variance. Austral Ecology, 32-46.
Arikunto, S. (2016). Prosedur Penelitian Suatu Pendekatan Praktik. Jakarta: Rineka Cipta.
Badan Amil Zakat Nasional. (2017). Outlook Zakat Indonesia. Jakarta: BAZNAS.
Badan Amil Zakat Nasional. (2018). Outlook Zakat Indonesia. 2017: BAZNAS.
Badan Amil Zakat Nasional. (2018). Peraturan Badan Amil Zakat Nasional RI No. 5 Tahun 2018 tentang Pengelolaan Keuangan Zakat. Jakarta: BAZNAS.
Badan Amil Zakat Nasional. (2019). Pengelolaan Informasi dan Dokumentasi. Dipetik April 07, 2019, dari https://pid.baznas.go.id/badan-amil-zakat-nasional/
Badan Pusat Statistik dan Bank Dunia. (2018). Laporan Statistik Angka Kemiskinan dan Ketidaksetaraan di Berbagai Negara. Indoensia: BPS .
Badan Zakat Amil Nasional. (2015). Laporan Penerimaan Zaakat BAZNAS . Jakarta: BAZNAS.
Beik, I., Nursechafia, Muljawan, D., Yumanita, D., Fiona, A., & Nazar, J. (2014). Towards an Establishment of an Efficient and Soakat Supervision. The Working Group of Zakat Core Principles, 3-43.
Creswell, J. (2010). Research Design Qualitative, Quantitative, and Mixed Method Approaches. London: Sage.
Departemen Agama RI. (2007). Manajemen Pengelolaan Zakat. Direktorat Pemberdayaan Zakat.
Firdaus, M. (2012). Economic estimation and determinations of Zakat potential in Indonesia. Jeddah: Islamic Research and Training Institute (IRTI).
Harto, P. P., Anggraeni, V. S., & Bayinah, A. N. (2018). Komparasi Kinerja Keuangan Lembaga Amil Zakat. Jurnal Akuntansi dan Keuangan Islam Vol 6, 19-33.
Ikatan Akuntan Indonesia. (2008). PSAK No. 109 tentang Akuntansi Zakat dan Infak/Sedekah. Jakarta: IAI.
Indonesia Magnificience of Zakat. (2011). Indonesia Zakat and Development Report 2011 : Kajian Empiris Peran Zakat Dalam Pengentasan Kemiskinan. Ciputat: IMZ.
Indonesia, P. R. (2001). KEPRES RI No. 8 Tahun 2001 tentang Badan Amil Zakat Nasional. Jakarta: Republik Indonesia.
Karim, A. (2011). The Significance of Management Information Systems for Enhancing Strategic and Tactical Planning. Journal of Information System and Technology Management, 459-470.
Sekaran, U., & Bougie, R. (2013). Research Methods For Business : A Skill Building Approach . Wiley.
Sukirno. (2015). Mikroekonomi Teori Pengantar . Jakarta: Raja Grafindo Persada.
Widyaningrum, N. (2018). Efisiensi Organisasi Pengelola Zakat Nasional di Indonesia dengan Menggunakan Metode Data Envelopment Analysis. Jurnal Pendidikan Ekonomi Vol.7.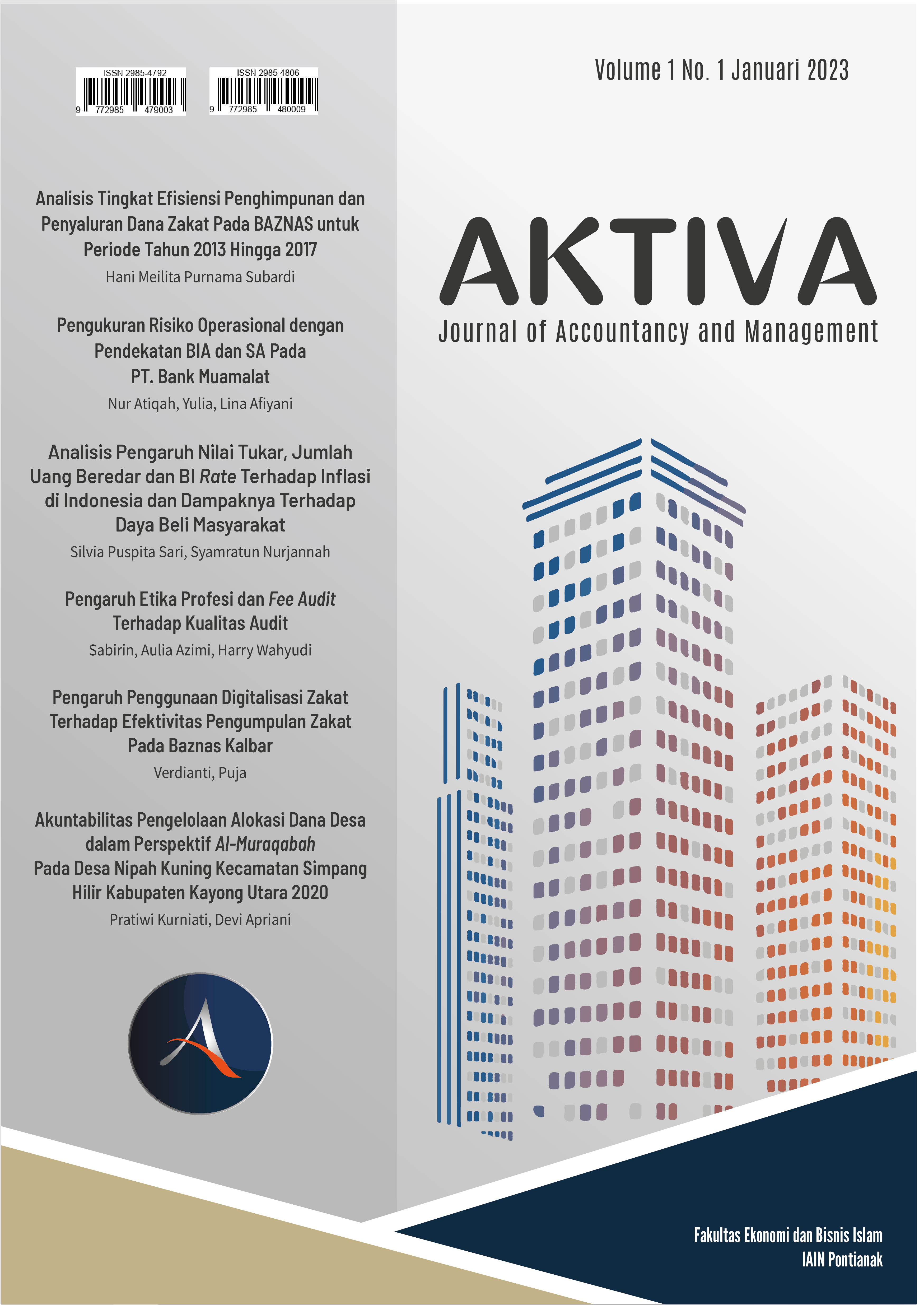 How to Cite
Subardi, H. (2023). Analisis Tingkat Efisiensi Penghimpunan dan Penyaluran Dana Zakat Pada BAZNAS untuk Periode Tahun 2013 Hingga 2017. AKTIVA: Journal of Accountancy and Management, 1(1), 1-11. https://doi.org/10.24260/aktiva.v1i1.1037
Copyright (c) 2023 Hani Meilita Purnama Subardi
This work is licensed under a Creative Commons Attribution 4.0 International License.