MANUSKRIP AL-QUR'AN DI KABUPATEN SINTANG (Sebuah Deskripsi Awal Atas Manuskrip Al-Qur`an Koleksi Istana Al-Mukarramah Kabupaten Sintang)
Rizki Putriani

IAIN Pontianak
Keywords:
Al-Quran Manuscript, Al-Mukarramah Palace, Sintang Regency
Abstract
Abstract
The Qur'an manuscript collection from the Al-Mukarramah Palace, Sintang Regency, West Kalimantan has interesting characteristics, namely it has a fairly complete qiraat record. However, in this study, researchers only focused on descriptive studies as an initial effort to introduce the Qur'anic manuscripts collected by the Al-Mukarramah Palace to the public, especially in the academic world. This study uses a descriptive method, with the main source of the Qur'an manuscript collection of the Palace of Al-Mukarramah Sintang. The conclusion of this article is to describe – that the Manuscrip of the Al-Qur`an collected by the Al-Mukaaramah Sintang Palace was written by H. Abdul Karim and Sultan Nata in 1672, and the purpose of writing this Qur`an is to teach the basics of Islamic, especially the Qur'an to the zuriat of the kingdom and the children and grandchildren of the kings in the kingdom.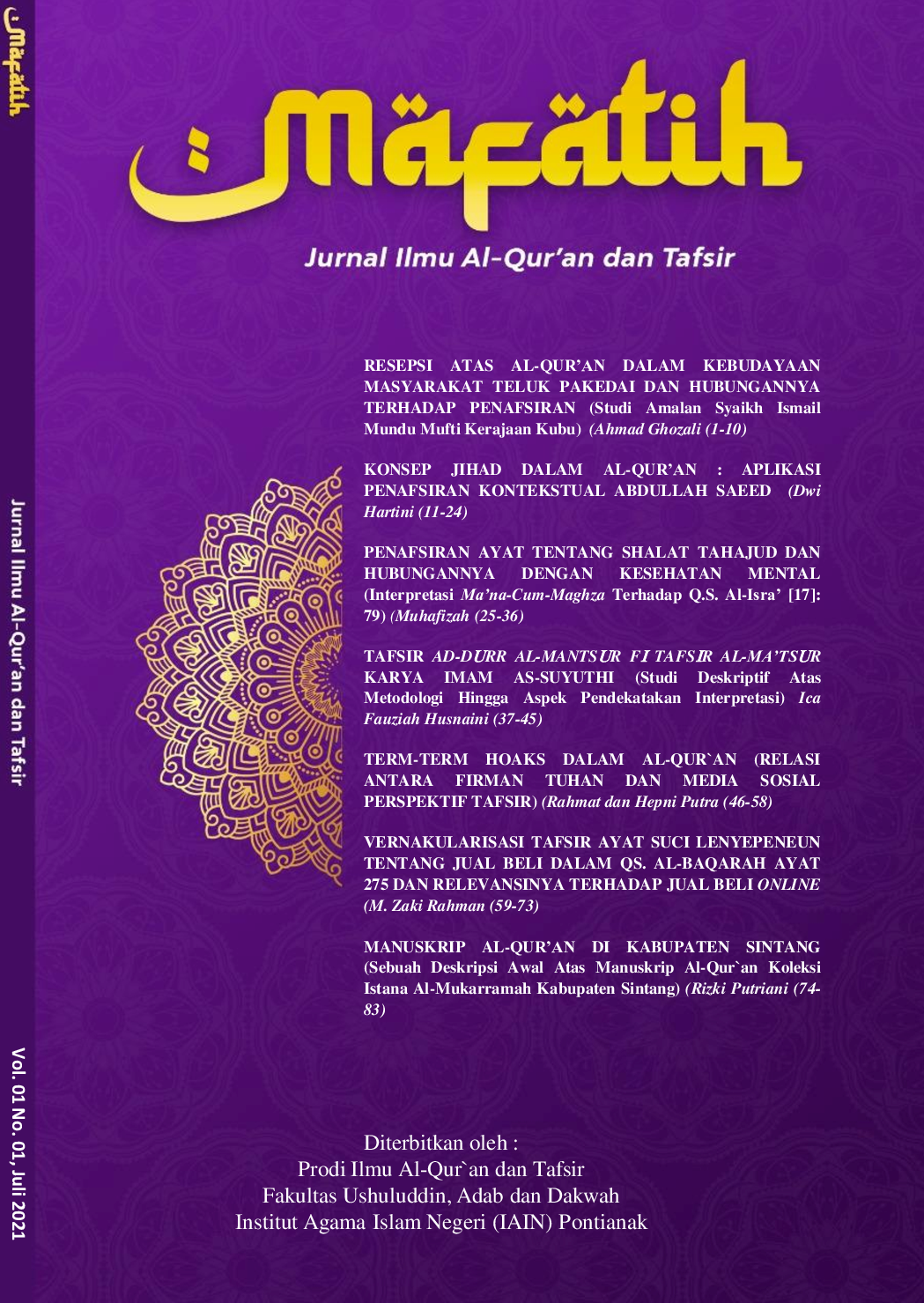 Copyright (c) 2021 Rizki Putriani
This work is licensed under a Creative Commons Attribution-NonCommercial-NoDerivatives 4.0 International License.