RESEPSI ATAS AL-QURAN DALAM KEBUDAYAAN MASYARAKAT TELUK PAKEDAI DAN HUBUNGANNYA TERHADAP PENAFSIRAN (Studi Amalan Syaikh Ismail Mundu Mufti Kerajaan Kubu)
Ahmad Ghozali

UIN Sunan Kalijaga Yogyakarta
Keywords:
Reception, Al-Quran, Teluk Pakedai,Syaikh Ismail Mundu
Abstract
Abstract
This article describes the reception of Ismail Mundu (Mufti) of the Kubu Kingdom to the Al-Quran surah Yasin, he wrote the book of Zikir Tauhidiyah and wrote a treatise on the virtues and advantages for people who read and practice QS Yasin [23]: 58. to examine this theme further, with the type of literature research in comparing the interpretation of Ismail Mundu with the mufassir. And with field research to see aspects of the living al-Qur'an. The conclusion of this article is that the relationship between the interpretation of the ulama and the thoughts of Sheikh Ismail Mundu towards the text has a tendency towards the pattern of Sufistic interpretation. Then from the aspect of the transmission-transformation of practice, that this practice has been carried out from generation to generation from his father - then passed on to his students, two of whom are H. Arsyad and H. Rifa'i.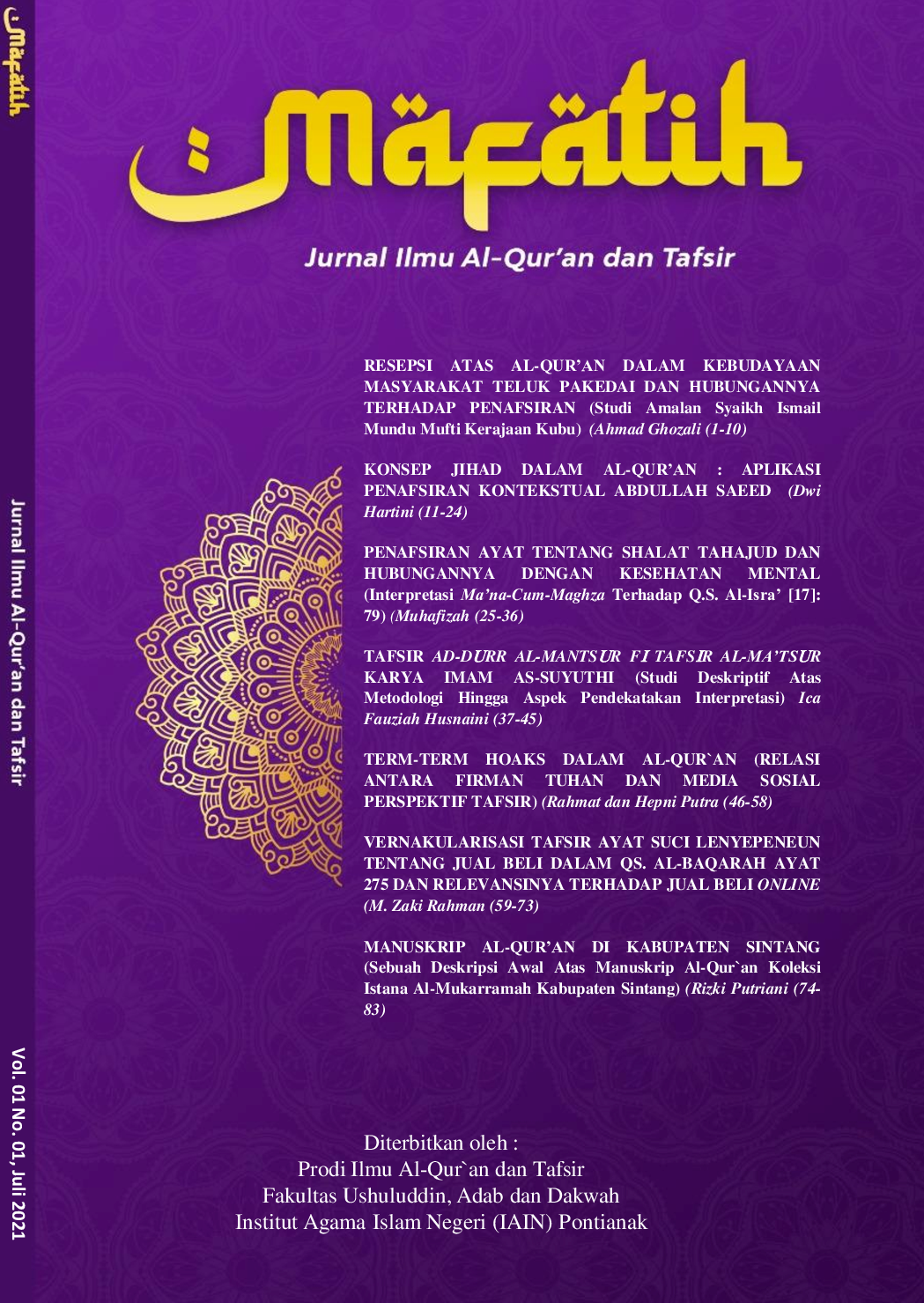 Copyright (c) 2021 Ahmad Ghozali
This work is licensed under a Creative Commons Attribution-NonCommercial-NoDerivatives 4.0 International License.