KHALREV: Khatulistiwa Law Review adalah Jurnal Ilmu Hukum dan Pranata Sosial yang dipublikasikan oleh Fakultas Syariah Institut Agama Islam Negeri (IAIN) Pontianak. Jurnal ini berupa hasil penelitian dan gagasan konseptual yang fokus kajiannya di bidang Ilmu Hukum dengan berbagai perspektif baik secara normatif, sosiologis dan perpsektif lain yang relevan dengan kontribusi dan perkembangan keilmuan di bidang hukum. Jurnal ini mengundang para penulis dari berbagai bidang baik akademisi, praktisi, peneliti dan mahasiswa untuk pengembangan kajian ilmu hukum dan hasil penelitian yang berguna bagi pengembangan ilmu hukum. KHALREV: Khatulistiwa Law Review dipublikasikan dua kali setahun dalam periode April hingga September dan Oktober hingga Maret.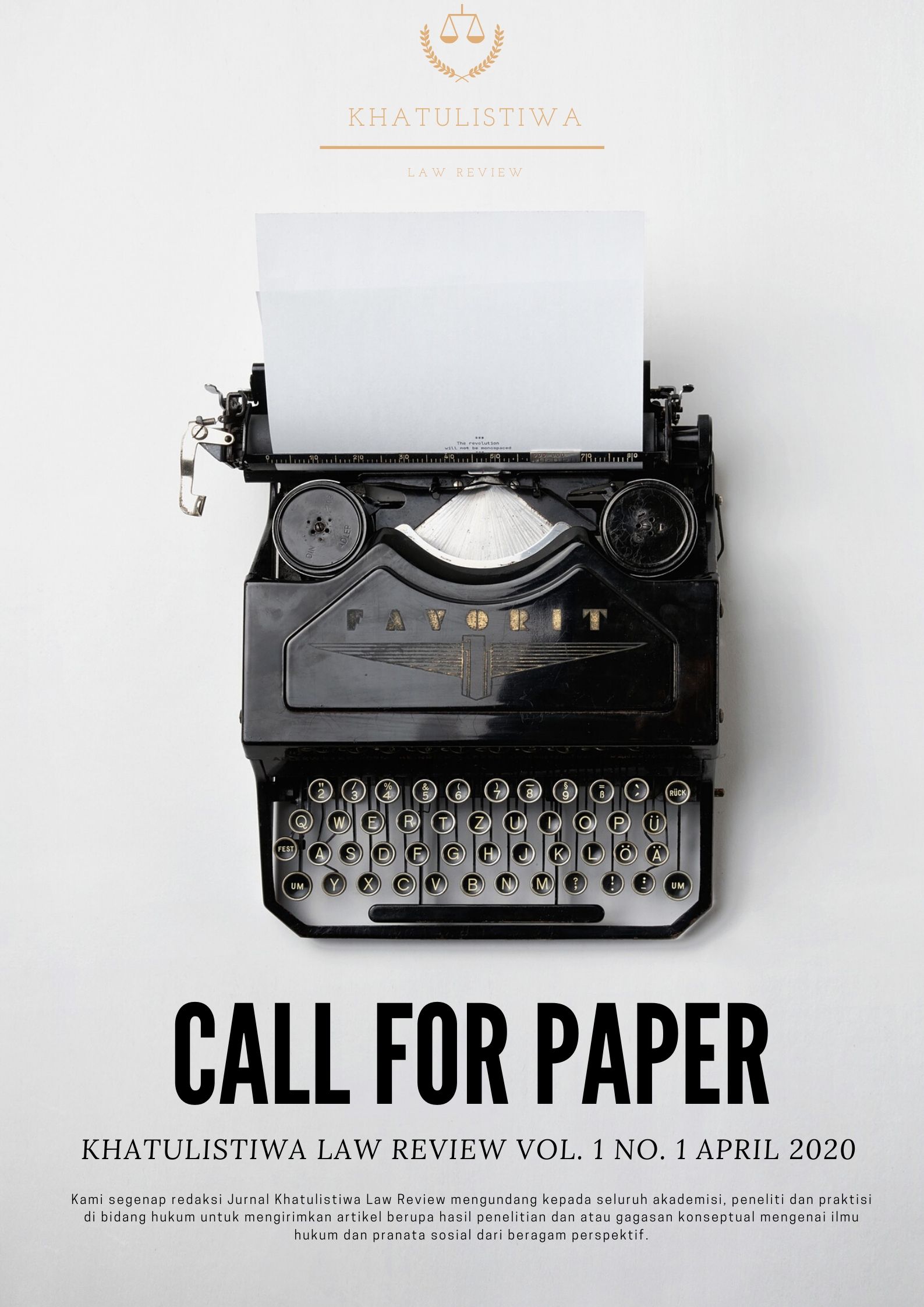 CALL FOR PAPER
KHALREV: KHATULISTIWA LAW REVIEW Mengundang kepada seluruh akademisi, peneliti dan praktisi di bidang hukum untuk dapat mengirimkan artikel berupa hasil penelitian maupun gagasan konseptual di bidang Ilmu Hukum dan pranata sosial dalam beragam perspektif untuk dapat diterbitkan pada edisi perdana Volume 1 Nomor 1 April 2020 dan Volume 1 Nomor 2 Oktober 2020.
Salam,
Moh. Fadhil, M.H.
Editor In Chief
-------------------------------------------------------------------------------------------------------------------------------
We are pleased to invite you to submit your paper for its upcoming edition: Volume 1 Number 1 & 2, 2020.
Submit your manuscripts through our OJS. The authors should refer to the KHATULISTIWA LAW REVIEW Author Guidelines in writing the manuscript. The authors are also encouraged to use Mendeley Citation Manager or Zotero in writing the manuscript.
You may submit your paper until this deadline (Deadline of Submission: March & September 2020); all papers shall be gathered and evaluated by the Board after the submission closes on.
Best regards,
Moh. Fadhil, M.H.
Editor in Chief